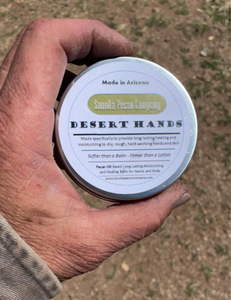 We Get It...
You work hard and your hands and skin are cracked and dry. Ours too.
I have lived with it my whole life. In fact, even as far back as grade school other kids would say I had 'old man hands'.
Now, working outdoors every day in the dry Arizona sun on our pecan orchard, you can imagine how much worse they are.
It certainly isn't just me. Many teachers, nurses and other folks are required to wash their hands repeatedly these days which really dries out the skin.
That is exactly why we made Desert Hands. To provide long lasting deep moisturizing relief not just for me, but for your hands and skin too.
Once you try it and feel the deep healing difference of pecan oil for yourself, you will wonder where this has been your whole life. Wonder no more. Desert Hands is your new solution to an age-old problem.
Find The Solution